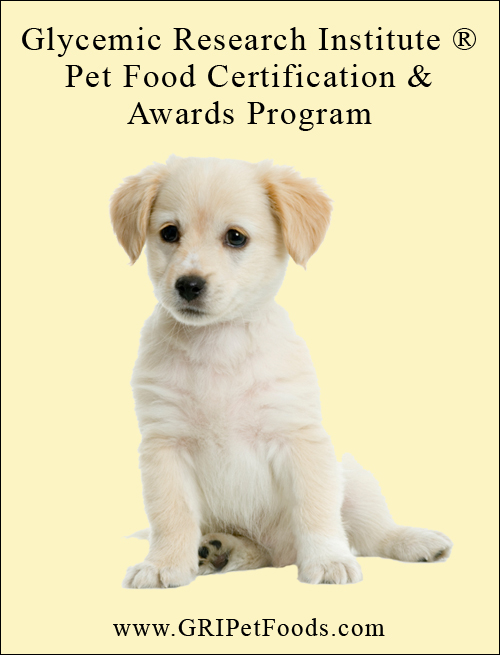 Welcome to the
Glycemic Research Institute®
OFFICIAL PET FOOD WEBSITE
Independent Clinical & Analytical
Rating on Pet Foods

| | |
| --- | --- |
| • | Pet Food Ratings |
| • | Pet Food Awards |
| • | Pet Food Treats |
| • | Pet Food of the Year |
ABOUT THE
GLYCEMIC RESEARCH INSTITUTE ®

The Medical Advisory Board, Senior Staff, and Associate Research Fellows of the Glycemic Research Institute® provide Independent Pro Bono Certification for products that pass the strict criteria for "Low Glycemic" foods, by authorization of the United States government, the Canadian government and the United Kingdom government.
The Federal Glycemic Research Institute® Certification Marks and Seals of Approval are based on ongoing Human In Vivo Clinical Trials that determine the glycemic index, glycemic load, diabetic response, Lipoprotein Lipase, and adipose tissue fat-storing properties of foods, beverages, Nutraceuticals, and Pharmaceuticals. Determining how humans and animals metabolize foods allows scientists to gain insights as to the varying effects different foods have on metabolism and longevity.
Federal authorization for the Glycemic Research Institute Certification Marks can be seen at the Official United States, Canada, and UK government websites.
Click Here
for complete information
on the GRI Awards Program


The Glycemic Research Institute® (GRI) conducts Independent Clinical and Analytical research on Pet Foods and Pet Treats.
GRI has examined hundreds of pet foods from 2004 to the present in order to determine the healthiest overall products, focusing on anti-aging, diabetes, arthritis, glycemic, blood glucose and insulin response, in the canine and feline.
As a Non-Profit independent research organization, GRI has no ties to the pet food industry, and does not accept monies from any company for the Pet Food of the Year Award or any other GRI Pet Food Award.
Click Here
for complete information
on the GRI Awards Program


Defining GRI Low Glycemic

& Diabetic-Friendly Pet Foods

As a species, dogs are cats are evolutionarily designed to utilize animal proteins and fat as their primary fuel, with Low Glycemic fruits and vegetables as a secondary fuel. It is important to include Low Glycemic species-friendly fruits and vegetables in canine and feline pet foods.
Protocols for Analyzing & Testing Pet Foods

The following methodologies are utilized in determining the Glycemic and Diabetic properties of pet foods. Following HPLC/U-HPLC analysis, the data is cross-analyzed with Glycemic Research Institute (GRI) records of known glycemic indices of raw materials, and assigned a glycemic and diabetic index.
•

Legal Requirements for "Low Glycemic" Claims on Pet Foods

Glycemic Research Institute®

LOW GLYCEMIC CERTIFICATION MARKS

FDA Legal & Regulatory Guidelines

Click here for full report

•
Glycemic Research Institute®
September 2009
Statement of Investigation
Pet Food Assessment

Click Here

for Official Report on 2 Pet Treat Products Submitted to the Glycemic Research Institute®


Sierra Foundation
Special Service Dog Award

The Glycemic Research Institute's philanthropic branch, the Sierra Foundation, is dedicated to providing pet food, medical treatment, bedding, and other pet needs, as a gift to special pets.


Click Here
27-Years of Research & Clinical Trial Expertise
Official Glycemic Research Institute ®
Websites